Florals are set, menus are designed, place cards look amazing and table numbers are done. You're feeling good that your reception table settings are finally in place, but there's one thing you may be forgetting: Table Number Holders!! Most couples usually leave this as a last-minute errand, picking up whatever is available and can ship the quickest.
Done right, table number holders complete the look of your reception tables, keep your table numbers from flying away or getting knocked over, and they also double as photo holders long after the big day!
"Well, where can I find good table number holders?" you ask. You've done the Amazon search and those options just aren't cutting it. You're in luck. We've scoured the internet for some of the most elegant, classy, and downright unique table number holders we could find. Whether your budget is free.99 or high-end luxury, there's something here for you.
1) Stone Slabs
Price: *Free 
*Depends on your local business—scraps are usually free or sold at a very low price. 


A local visit to my local landscaping supply business yielded a free-for-all with stone scraps. There are tons of open/incomplete pallets they usually have at the back and they simply told me to have a go with whatever small pieces I'd like to take! You can also try your local tile+flooring shops, nurseries, and construction supply for stone scraps. 


Natural materials like these are trending all over the wedding sphere these days, and it's such a cost-effective way to add a touch of luxury to your reception tables. 


You can use two to prop up a card, attach a vinyl number to them directly, or simply prop up the card with the stone behind it. Just make sure to reinforce the card by placing double sided tape or glue dots to keep it upright on the stone. If your stone edge is uneven, you can can lean it on a vase or a pillar candle to keep it sturdy. 


Shop these table numbers via A Modern Wedding
2. DIY Contemporary Sculpture / Table Number Holder
Price: $2-$15 

You'll need a small foam block, a floral hoop, a wire cutter, and drywall/plaster. The foam block and floral hoop can be purchased at your local dollar store (we got our supplies from Dollar Tree). A small container of plaster is usually very inexpensive at any home improvement store. 
First, cover the foam block with plaster either using your hands (while wearing gloves), or while using a plastic spoon or disposable spatula. The messier the texture, the better. 
Once the plaster is dry, use a wire cutter to cut the hoop. Push in either end into the side of the foam block. 
Note: Because these are very lightweight, they are only recommended for indoor receptions. 
3. Wood Photo Stand Holders by JDM Wood Creations
Price: $6-$14
These card/photo display holders are affordable and come in a variety of geometric shapes.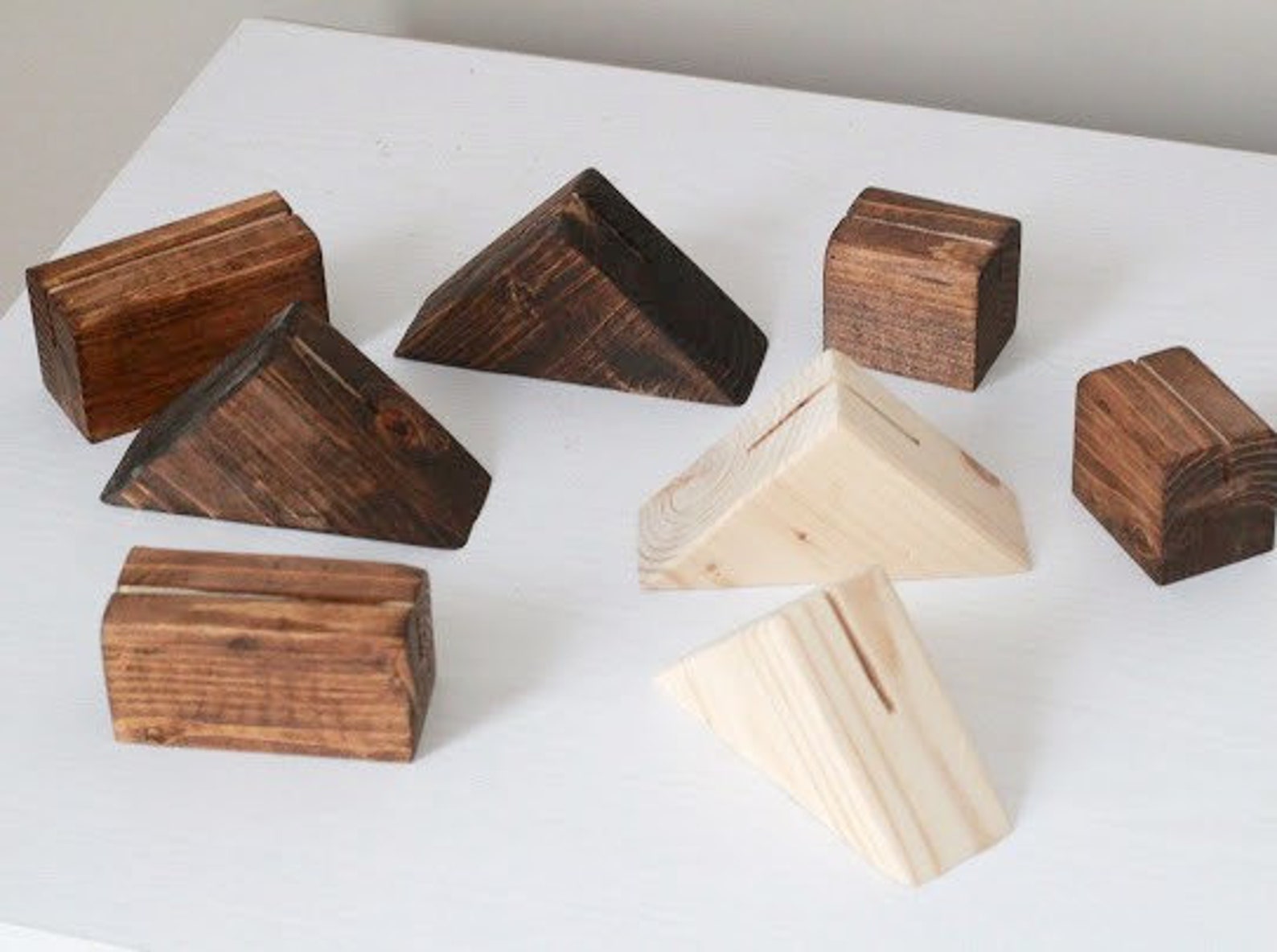 4. Style Me Pretty Hexagonal Place Card Holders
Price: $18.99/12
These table numbers have a mounded hexagonal top, giving them a unique look. 
 Shop Style Me Pretty Hexagonal Holders
5. CB2 Brushed Gold Place Card Holders
Price: $11.95/4


So sleek and versatile, these brushed gold place card holders by CB2 can be used for table numbers, then re-purposed for name cards when you feel like having a fancy dinner. 
Shop CB2 Brushed Gold Card Holders
6. Pottery Barn Marble Square Place Card Holder
Price: $20/4
If there's one thing that will never go out of style, it's marble. You'll be able to use these holders for years to come. 
7. Totem Family Picture Postcard Stands
Price: $71.90/10
 These stands are incredibly unique! They remind me of the Bauhaus posters, and the mod art movement. So beautiful that they're giftable, and can be used throughout your home/office after. 
Shop Totem Family Picture Postcard Stands
8. Grace Designs Architectural Concrete Card Holders
Price: $8-9/ea
These beautiful, tiny, architectural sculptures are a sure conversation piece.
9. Grace Party Designs Terrazo Card Holder
Price: $10-11/ea
Add a layer of texture and dimension to your reception tables with these terrazo card holders. They come in three different colors!
10. Oak and 9th Minimalist Solid Brass Gold Holders
Price: $19/ea
These solid brass gold holders are keepsakes. Sleek, classy, and elegant. 
11. Grace Party Design Modern Concrete Card Holder
Price: $22-32
These holders are a modern minimalists dream. Sleek, sharp edges create a cool, chic, vibe. 

Additional Tips
Use different search terms.
Try searching for "picture card holders," "place card holders," or "photo stands" to open up a wider selection for your table number holders. 
Check the width of the slot opening. 
Make sure to check the width of each slot for every holder. Some are specifically made for thicker materials such as acrylic, or foam core and won't accommodate for cardstock. Alternatively, some slots are too shallow to hold a 5x7 card. 
Consider the setting. 
Will your reception be indoors or outdoors? For al fresco events, you'll need more weight to keep everything stable against wind. This also means that the slot needs to be deeper so that the table number won't fall out. 
Make sure to pin these so you can come back to them later!