SAVE THE DATES ARE HERE.
These are the save the dates you've been waiting for: featuring curated sets to remove the guesswork and stress of DIYing everything yourself. Each piece complements a sophisticated aesthetic to impress your guests. Check out our brand new collections below: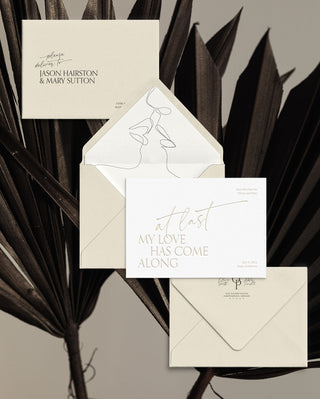 elevated boho chic
the Blasé collection
That effortless-chic aesthetic, in a snap.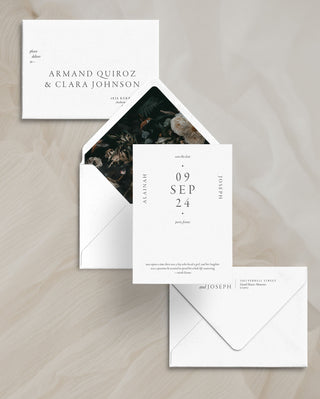 timeless and classy
the stone collection
It's giving luxury, hollywood glamour, french chateau vibes.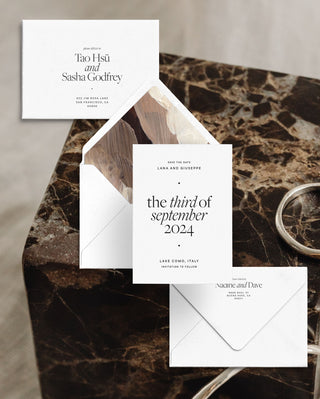 refined minimalism
the slate collection
Sleek and modern, with beauty found in artistic refinement.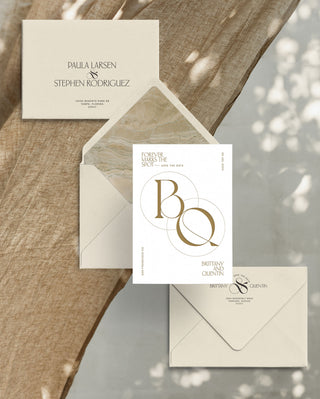 an editorial dream
the quinn collection
If you love big fonts and you cannot lie.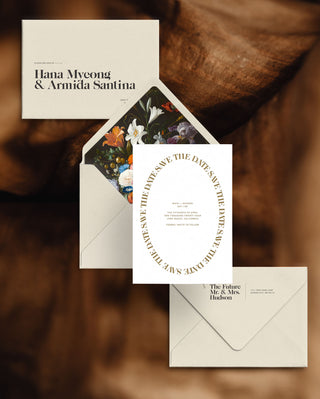 bold and joyful
the skyline collection
Let's get this party started.
"Customer service was amazing. A Modern Wedding was willing to go above and beyond to create my dream invitations. They were flexible with my changes and did it all with a smile. I really did not have any hesitations or doubts.  I received a sample prior to ordering and that provided so much comfort to feeling how the invitation would look. The process is amazing. We had an easy time using the forum to ask questions and view the drafts of the invitation suites. You took everything and personalized it into magic! "
We chose to work with Stephanie for our wedding and we could not have made a better choice. Stephanie has impeccable taste and we immediately felt comfortable leaving our vision in her hands. She was so responsive, patient, and thoughtful throughout the entire process.  We worked with her on just about every paper element of our wedding week and we were thrilled with the results.  Planning a wedding is stressful but it was such a relief to be able to trust her with an important piece of it.  We recommend her to all of our friends and would work with Stephanie again in a heartbeat. Thank you so much for being such a key part of our wedding!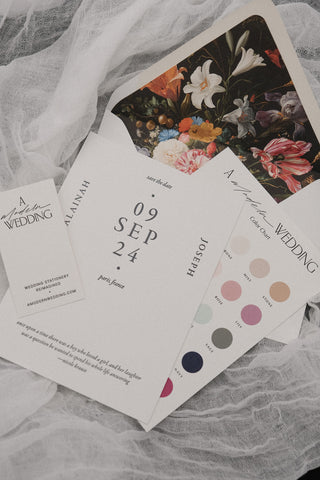 samples
try before you buy
Experience our paper textures, colors, and print quality in person. Your big day is special, so let's make sure we get it right! Our try before you buy sample packs are perfect to see if our products are the right fit for you.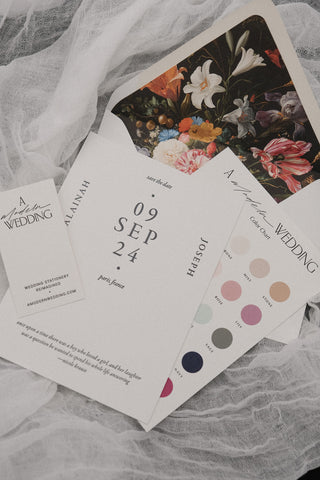 THE PACKAGES
Which option is right for you?
[ PRICE RANGE: $ ]
THE MUSE
Let's face it: You know how to make anything look good and you've got killer ideas up your sleeve. Perfect if you want to mix and match or only need the core essentials.
INCLUDES
Main Invitation
Fully Addressed Envelopes
POV (POINT-OF-VIEW)
You don't have just one, but MANY creative bones in your body and it gives you joy to select and craft your own invites. You prefer a streamlined invitation with just the essentials, want to save some $$$ for other wedding stationery, or want to switch things up with another envelope liner!
[ PRICE RANGE: $$ ]
THE TRENDSETTER
Impress your guests with the very first taste of the big day. Our gorgeous envelope liners carry a "wow" factor that just can't be ignored and set the tone for what's to come. We save you time by pre-assembling your liners so you have more time for wedding planning..aka Netflix.
INCLUDES
Main Invitation
Fully Addressed Envelopes
Envelope Liners (Pre-Assembled)
POV (POINT-OF-VIEW)
You know what looks good when you see it. You're dying to tell the world about the big day and want to make sure you wow them with a first impression. You love the ease and no guesswork of having pre-curated designs, and dont mind finishing off your invites yourself.
[ PRICE RANGE: $$$ ]
THE GO-GETTER
Because you've got places to go and things to see. Allow our expert assembly to take care of the whole process from start to finish. With just a few clicks, your invites are fully assembled and mailed to your guests. No guesswork, no stress, no fuss.

INCLUDES
Main Invitation
Fully Addressed Envelopes
Envelope Liners (Pre-Assembled)
Full Assembly
Postage
"Unboxing Video"
Invitations mailed to all guests, your invitations mailed to you with outer packaging
Photos of all mailed envelopes for your records

POV (POINT-OF-VIEW)
You needed your invites out yesterday and while you appreciate a good DIY project—you prefer the experts handle this one.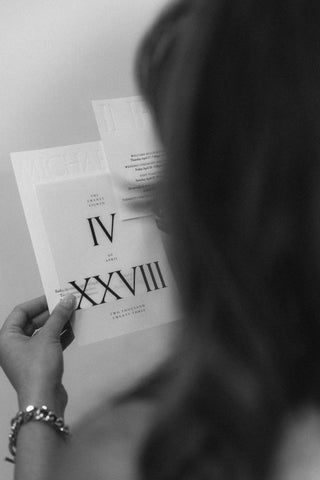 our stress-free experience
—01
DETAILS
After checkout, we provide you with a content form to fill out with your details, ink color choices, and guest addresses (don't worry, we have a free template for you!)
—02
DESIGN
You'll get a digital proof to approve your design and provide any feedback or edits.
—03
DELIVERED
Then, your invitations are printed (and assembled for our Go-Getters) and delivered to your door.
choose your adventure
Handpick your own pieces for a uniquely curated invitation!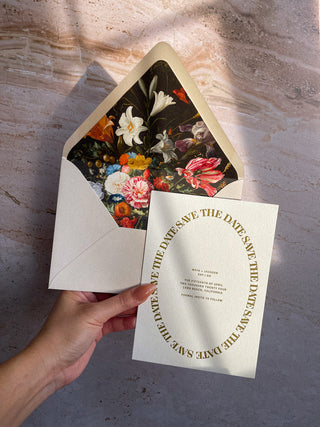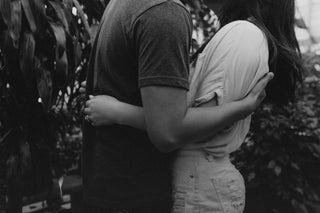 resources + tips
engaged?
We get it, this stuff can get a little overwhelming. We created some tools we wish WE had during our wedding journey. Grab your freebies below ↴
EXPLORE OUR FULL COLLECTION
Save the Date Invitations for sophisticated couples